Once on your site, how long does it take for visitors to understand what you're doing? Do they have easy access to the information they need? Is the information you present easy to understand? These are all questions that often come to mind when we want to improve the performance of a site. If it takes more than 5 seconds to understand your activity, if the information is difficult to access or understand, it's not too late to review everything and put all the odds on your side. Designing and optimizing your site is the key!
User experience, functionality and content are the three essential elements in the design of a website. The site, aimed at promoting your business or brand, must also meet the needs of your audience. Be sure to communicate about your business and the benefits you offer. Surely you are wondering how to do that? The answers right now.
1 – Anticipate your prospect's journey
Make your site dynamic by thinking about the visitor's journey, from the first visit to the action (contact or purchase). To do this, identify the needs of the public based on your field of activity. Think about it all:
On the page that will be seen first: is there enough information?
Products or services that may be of interest to visitors (according to search keywords).
The way you present your offer: is it catchy? Convincing?
The design of your site: is it suitable for your job, is it pleasant? Etc.
Keep one goal in mind: to accompany your visitors in the conversion funnel. In other words, encourage them to buy.
2 – Put only the essentials on your website
All the elements of your site should contribute to highlighting your values and the message you want to convey. Forget heavy animations, too long content, images that are too cumbersome. Simplicity and clarity, that's what you have to remember!
Keep in mind that people are often in a hurry to find what they are looking for. You only have a few seconds to convince them to stay on your site, so make good use of that time. The first impression is the most important. Beautiful photos, beautiful colors and airy content will be your best assets! Beware of any ambiguous expression that will only divert the attention of visitors. Simple words, clear sentences, that's what we want! Banish words that have been used too much. To make your content more attractive, it takes a little originality, while remaining natural of course.
3- Socialize
Don't forget to include sharing buttons on social networks. Placed at the top or bottom of your site, these sharing buttons are convenient tools for interacting with your audience. But that's not enough, give your users the desire to share.
4 – Call to action
We've all heard of the famous call-to-action button, but what's the point? Are your CTAs relevant? The idea is to tell visitors to your site what to do. Once they click a CTA button, they move on to another step. You can put calls to action in your content, choose the right locations. Help users find what they're looking for. When they are convinced that your company has the answer to their needs, they will feel more comfortable on your site, and will be more interested in what you are proposing.
Click here for more information, download our catalogue, sign up, etc. are examples of CTA buttons.
5 – Select the right visuals
Images, videos, infographics are very effective communication tools, but you still have to choose them well. All the beautiful visuals you have won't find a place on your site. You have to choose them according to the message you are trying to convey. Choose realistic visuals that are representative of your content. And most importantly, ensure their qualities.
6 – Think about navigation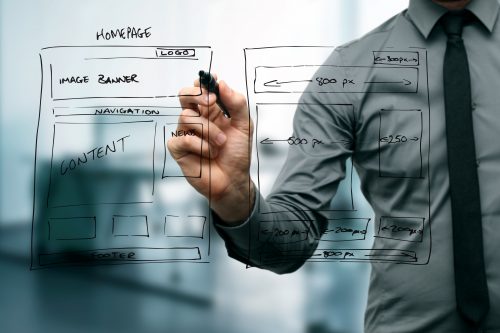 Guide visitors to your sites by setting up a good navigation interface. So that your visitors can easily find what they're looking for, offer simple content. Don't forget to do the same when it comes to displaying your site on a mobile device. The navigation experience must be simplified.
7 – Keep visitors on your homepage
Your homepage is your company's showcase. Your prospects need to find all the information you need. There is no comprehensive list of items on a home page, but it could help. So, to enrich your homepage and make it captivating, consider including a short introductory video, a presentation of all the services, a small history of your company… By choosing these elements, make sure they add value to your content, otherwise they won't help.
8 – Pay attention to the visibility of each page
When designing your site, think about legibility. To do this, don't forget to divide your content into sections, it will make it more airy and enjoyable to watch. If information is needed to inform visitors, white spaces are also needed not to overwhelm them. Group your content for ideas so that visitors can better locate themselves on your website.
9 – Create a mobile friendly site – Responsive
Optimizing your site for mobile devices is a necessity. Allow your future customers to access your offerings more quickly by adapting to their needs. The idea is to offer a good user experience regardless of the device used, computer, smartphone…
10 – Regularly test your site's performance
Update your information regularly. You can take the opportunity to fine-tune your content. It is not a question of making major changes. Sometimes, just give your site a touch of freshness. A simple change in the color of the buttons, headers or the addition of a few catchphrases could do the trick. Don't forget to check the links and change any broken links. Your visitors won't tell you if there are any unknown links or inaccessible pages on your site, they will look elsewhere.
Stay tuned for new web news, you'll see that there are a thousand and one ways to optimize the design of your site. Start by following these 10 tips!