To increase conversion rates and maximize the return on your lead generation strategy, adopt remarketing. What is it? How does it work? What benefits can you derive from this? The answers in the following lines…
Remarketing, sometimes called retargeting, targets users who have already visited your site or looked at your products. These users "interested" in what you offer are so-called "potential customers," and with remarketing, you can improve their chance of conversion!
The technique is based on personalized advertising campaigns. You've probably already seen these classifieds that appear on the sites you visit. It's remarketing! Google AdWords is also a very popular remarketing tool. You'll know more, but above all, remember that the principle of remarketing is simple: with the right strategy, you will gradually embark on the funnel of conversion users who know your brand or your products by reminding them of your existence on an ad hoc basis.

Why does it matter?
Today 70 to 90% of visitors leave the site before making contact or buying a product. Which, you will agree, is a lot. The reasons can be different; no time to go through with the process, wants to think… Indeed to conclude a contact or a decision to buy it will often have to wait for the 2nd see 4th visit on the site.
We also note that of the 72% of Internet users who abandon their buying process only 8% return to the site to conclude.
This is where remarketing comes in, with the aim of reminding visitors who have shown an interest in your products or services that you are present if they come to make up their minds.  Indeed, remarketing allows 26% of consumers lost to return to finalize a sale or a contact.
Why should you do it?
The figures and marketers confirm that retargeting is as effective, if not better, than research, e-mail and other means of display.
In addition, consumers tend to react positively to this type of advertising. Indeed 30% of consumers have a positive or very positive reaction to remarketing, while only 11% of them have a negative opinion about them.
Add to the fact that the clickthrough rates (CTR) of remarketing ads are on average 10x higher than those of conventional ads.
Finally, compared to other investment strategies, remarketing generated the largest increase in the number of business name searches of 1,046%.
How does it work?
From the moment the user visits your site, it is labeled with a "cookie" and then it will be listed in your remarketing list. All users on this list will then be potential recipients of targeted ads.
Let's take the example of Google Ads! Google has a Google Display Network of many partner sites that visitors to your site are also likely to visit, and where your campaigns will appear.
To put it simply, let's take an example: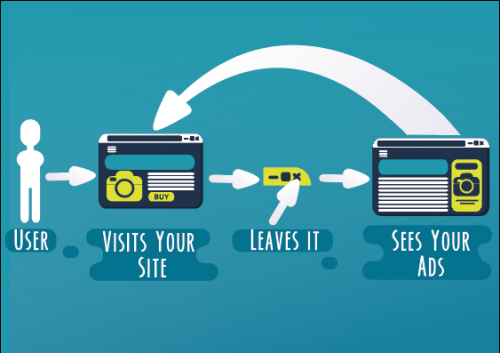 1/ You visit an X moving site, you do a quote simulation, and then you leave the site.

Your visit is tracked down thanks to cookies
2/ You then go to a Y news site that is part of the Google Display Network
Company X, which had previously implemented a remarketing campaign targeting people who had been up to the quote stage, asked for quotes.
3/ So you see an announcement from Company X on the news site Y encouraging you to come back and make contact.
Is that clearer?
Also note that there are several types of ads tailored to the audience, the type of products or services targeted, and the message to be conveyed.
E-mail
YouTube video
Advertising Banner
Search engine
What about the creation of remarketing campaigns?
It's not very complicated if you already know about Google Ads, but as with traditional advertising campaigns many criteria need to be taken into account.
The steps to follow:
First, you need a Google AdWords account to get your remarketing tag.
Then add this tag to your website, on all pages.
Make sure that the information associated with this tag helps to identify user behavior and their interests, without violating user consent rules.
Create one or more remarketing lists based on user profiles and what they do on your site: visit a page, visit all pages, watch a product, add a product to their basket, buy the product, keep a product in the basket without buying it, etc. Set up your remarketing lists according to your goals.
Start with a list and customize your ad by adding settings such as a geographic indication or language.
You need several versions of your ad with relevant and interesting information.
And that's it, your campaign is ready!
Some good practices:
Remarketing is user-centered, experience and interests, but always be careful not to overdo it.
Manage how often your ads are displayed.
Optimize your ads by customizing them to the fullest. (Create multiple lists.)
Also list your real customers and make them loyal by offering them promotions, discounts…
Regularly evaluate actions put in place to correct or strengthen certain options.
To achieve your goals, consider all possibilities. Remarketing can be adapted to all situations, all products and services, all types of users, without restriction of languages or geographical areas… It's an effective conversion strategy that allows you to target your potential customers in a personalized way.
What marketing goals does remarketing achieve?
Brand awareness
Social engagement
Increased sales
Customer loyalty
Lead generation
Additional sale
Community creation
Maturation of prospects
You now know that there are many options to use to boost your marketing! It's up to you!